Ultra-Popular Laowa 100mm 2x Macro Lens Now Available for Canon RF and Nikon Z Mounts
Venus Optics has just announced that its ultra-popular Laowa 100mm f/2.8 2X Ultra Macro APO lens—one of the best and most affordable macro lenses on the market—is now available for Nikon's Z and Canon's EOS R full-frame mirrorless cameras.
Originally announced in 2018, the lens has been extremely well-received by DSLR shooters and owners of the Sony E-mount. In fact, the 2x Ultra Macro was recently named the "Best DSLR Macro Lens" at the TIPA awards, and it performed at the top of the pack in this comprehensive shootout between all of the 100mm (ish) f/2.8 Macro lenses currently on the market.
Now, it's no longer limited to Sony mirrorless shooters; Canon RF and Nikon Z owners can take advantage as well.
Here's a closer look at the refreshed 2-year-old lens in both RF and Z mount—like the E-mount version, the Z and RF mount lens is 30mm longer than the DSLR version to compensate for the much shorter flange distance of the mirrorless mounts: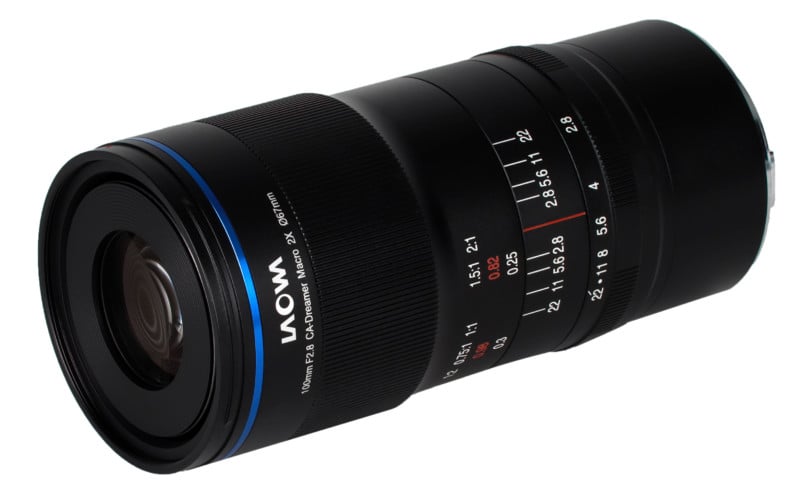 And here's a quick performance comparison between the Laowa and some of its main competitors (click for higher resolution):
Admittedly, the lens isn't perfect. The rock bottom $450 price tag comes with some trade-offs, namely: no in-lens image stabilization and no autofocus. But the former isn't a problem for Nikon Z shooters, since they have IBIS built in, and the latter is usually only marginally effective for extreme macro work anyhow.
To learn more about this lens, head over to the Venus Optics website or order your copy of the Canon and Nikon versions online today.