This Photographer Adds UFOs Into His Fine Art Film Photography
Retired professional photographer Bob Rosinsky was editing one of his fine art film scans recently when he accidentally picked the Brush Tool instead of the Healing Tool in Photoshop. Just like that, a small gray smudge was created, and a strange photo project was born.
Rosinsky calls the series Mid-Century UFOs, and these photos are his way of combining various analog and digital processes into something he finds both artistically satisfying and creatively stimulating.
"The color pictures are made by shooting three frames of black and white film through red, green, and blue filters. Post is done in PS and the images are printed on fine art paper on a wide format Epson," he tells PetaPixel. "All film is developed in caffenol to achieve the 'look' of old time color and monochrome emulsions dating from the late 30s to the early 60s."
His "kit" consists of a couple of vintage Rolleicords and what he describes as "a mid-range Canon 35mm SLR." For lensing, he uses a 50mm f/1.8 with the Canon and 75mm f/3.5 Xenar lenses for the Rolleis. He shoots all the images on Ilford HP5+ and, as mentioned above, develops all the film in caffenol. The Black and White images are edited in CaptureOne, the color images made by combining frames in Photoshop. All the 'UFOs' are added digitally.
The results really do look like snapshots from the mid-1900s, or frames from old-time sci-fi movies before CGI caught up with human imagination: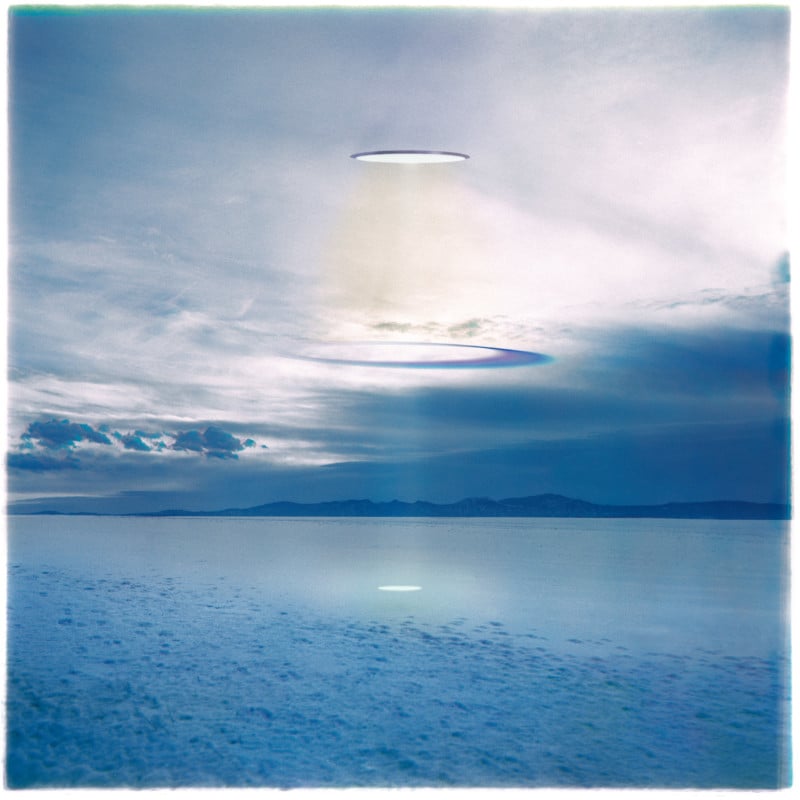 To see more from this quirky marriage of analog and digital photography, click here. And if you want to see more of Bob's fine art photography—with and without UFOs—you can find his full portfolio on his website at BobRosinsky.com.
And if you want more "UFO" talk, check out our coverage of those controversial videos released by the Pentagon earlier this month.
---
Image credits: All photos by Bob Rosinsky and used with permission