This Month in Photography: July 2020
Every last Sunday of the month we bring together a collection of easy reading articles from analytical to how-to to photo-features in no particular order that did not make our regular daily coverage.
Essential Photography Tips for Your Summer Road Trip — Forbes
Lavanya Sunkara compiles Nikon Ambassador, Deborah Sandidge's, top photography tips to help you record unforgettable moments and stunning panoramas on your adventures this summer.
Dive Into This Photography Book Documenting the Joy of the Swimming Pool — Vogue
"The pool attracts photographers creating narratives within their work, using it as a backdrop or a set for various subplots. For other photographers, it's purely visual—about lines, symmetry and angles…" says British writer and curator Lou Stoppard in her latest book, Pools.
Photographer Chronicles Greenland's Changing Landscape During Annual Trips — My Modern Met
Norwegian landscape photographer Christian Hoiberg, enamored by the environment around him, uses his time in Greenland to explore the mysterious landscape and track down the moving ice that makes this country a destination of choice for many photographers.
Derek Ridgers's Best Music Festival Photographs — AnOther
To mark Glastonbury's 50th birthday here is an exclusive look inside one of the largest music festivals in the world by Ridgers, an English photographer known for his photography of music, film and club/street culture.
Oculi: the Photography Collective's Startling Vision of Australian Life — The Guardian
Oculi, born out of a collective discontent with Australian mainstream media's seeming indifference to the shifting landscape of global photographic practice, the group of former and current press photographers who cut their teeth largely across Sydney's metropolitan mastheads of the 1990s wanted to agitate for a more sophisticated visual language and share a fresh Australian narrative with the world.
The Secret to Great Ski Photography? Romance — Powder
Photographer Sofia Sjöberg's, an adventure photographer from Stockholm, Sweden has the greatest muse in her partner, pro skier Jacob Wester.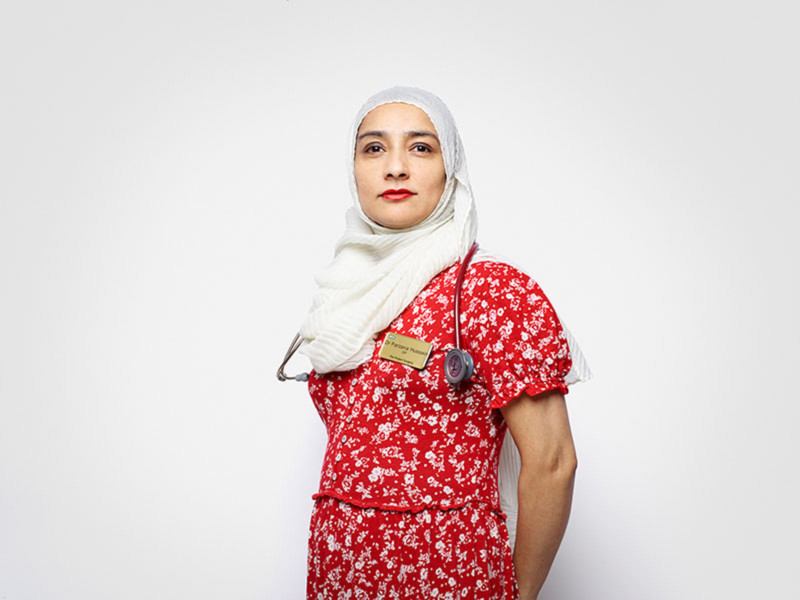 Rankin Photographs NHS Staff in Powerful Tribute to UK's Frontline — Metro.co.uk
Rankin, renowned photographer, who is known for his portraits of Rolling Stones and the Queen, offered to capture powerful portraits of 12 individuals from across the National Health Service (NHS) in England, who played a critical role in managing the response to the COVID-19 pandemic.
Using Water Droplets in Photography — The Gazette
Andy Abeyta, a photojournalist for The Gazette in Cedar Rapids, Iowa shows how to create fine art using just water drops.
Photographer Ingeborg Gerdes, Documentarian of the West, Dead at 81 — SF Chronicle Datebook
Just five years after earning her MFA, Gerdes, who did not have all the name recognition in the wider realm, was featured alongside the likes of Imogen Cunningham and Diane Arbus in "Women Photographers: A Historical Survey" exhibition at the San Francisco Museum of Modern Art.
Photographer Compiles Over 100 Photos of Chicago Into a Book 20 Years in the Making — My Modern Met
Barry Butler, the Ireland-born, Chicago-based photographer highlights across 124 pages some of the city's most stunning views in this homage to the city that has inspired him.
Getting Hired by The Hollywood Reporter and Billboard: Q&A with Photo/Video Director — Rangefinder
Jennifer Laski, executive photo and video director of The Hollywood Reporter and Billboard gives us some intel on what she's looking for when she hires photographers and filmmakers.
A Country in Quarantine: Photographs From a COVID Road Trip — Vanity Fair
Brian Bowen Smith, who was mentored by Herb Ritts, took a road trip across America in the midst of the COVID-19 quarantine, which "…took over six weeks and 11,000 miles."
Omar Victor Diop's Photographs Celebrate the History of Black Resistance Through Vivid Symbolism — Artsy
The first image is Diop, surrounded by a splash of technicolored Skittles, playing the role of young Trayvon Martin, who was fatally shot in Sanford, Florida, by George Zimmerman in 2012, and whose death catalyzed the Black Lives Matter movement.
Rare Photographs of Prince, Grace Jones, Kanye West and More Go up for Sale — Hyperbeast
In order to support the entertainment industry impacted by COVID-19 and fight racial injustice, VaultWorks is releasing never-before-seen photographs of music icons like David Bowie, Amy Winehouse, Prince, Quest Love and Kanye West with 25 percent of proceeds donated to MusiCares, the affiliated charity of the Recording Academy and Color of Change.
Magnum Photos Nominates Five Photographers to Join Its Organization — Hyperallergic
This year, Magnum presents five new prospects, who will first join the organization, Khalik Allah (USA), Sabiha Çimen (Turkey), Colby Deal (USA), Yael Martínez (Mexico), and Hannah Price (USA), and demonstrates an abiding interest in amplifying a diverse perspective, both in terms of photographer and subject.
Provocative and Influential: Helmut Newton's Fashion Photography Revolution — DW
The Bad and the Beautiful is a new documentary about the legendary photographer Helmut Newton whose provocative, erotically charged black-and-white photos were a mainstay of Vogue and other publications.
Need A Day At The Beach? Tag Along With Big Wave Photographer Sachi Cunningham — NPR
Huge waves, deadly rip currents, and sharks have not stopped Cunningham, one of the first women shooting big waves in a male-dominated profession.
West Baltimore Photographer Supported by Iconic Camera (Leica) Brand — 2ABC WMAR Baltimore
Devin Allen whose protest photography has landed him two TIME covers has been selected by Leica as an ambassador.
Do Civil War Photographs Match Today's Digital Images in Showing Details? — TimesNews
Garry Adelman, VP of the Center for Civil War Photography, takes a large format glass negative of the Civil War, which looks like a routine photo of an army review, but when he zooms into a very small area you can clearly see Gen. U.S. Grant, Pres. Andrew Johnson, Secretary of the Navy Gideon Welles, Gen. William T. Sherman, and at the far right is Gen. George Gordon Meade who defeated Robert E. Lee at Gettysburg.
New Rencontres d'Arles Director Promises 'Less is More' Approach After Pandemic Scuppers This Year's Edition — The Art Newspaper
Christoph Wiesner, the newly appointed director promises a curatorial attitude that encompasses "a wide rethinking of history" for the largest photography festival in the world, based in the southern French city of Arles, with 149,000 attendees in 2019.
A Beautiful Day in Los Angeles' Leimert Park — Rolling Stone
"The crux of being a black photographer crafting such sensitive stories for a magazine like Rolling Stone comes with its own pressure," says Samuel Trotter, a 22-year-old, self-taught visual artist.
Flower Photography Tips — North American Nature Photography Association
F. M. Kearney discusses basic techniques that do not require the use of any special equipment or extensive knowledge of digital editing.
In Autoportrait, Photographer Samuel Fosso Brings New Meaning to Self-Representation — Vanity Fair
Samuel Fosso's latest collection looks at self-portraits not through the lens of vanity, but in an effort to provide fresh context to the lives of Black icons.
How To Get The Best Photos Of Birds In Flight — Outdoor Photographer
Learn to capture birds in flight, in perfect light and with perfect wing positions from Russ Burden.
Oldest Surviving Photograph of Māori Discovered in Australia — The Guardian
An 1846 photo of Hemi Pomara, who was displayed as a "native" of the colonies before the royal family, was discovered at the national library of Australia by researchers.
How Four Women Photographers Interpreted Fashion During Quarantine — Vogue
At home off the coast of Ireland or on the bodies of loved ones—these photographers captured clothing their way.
12 Ways that Blackmagic's 12K Camera is the REAL Game Changer (Sorry, Canon) — Digital Camera World
While the world was still reeling from Canon's 8K bombshell, Blackmagic came along and dropped a 12K warhead that absolutely flattened the battlefield. 
4 Decades Of Seascapes From A Color Photography Innovator — NPR
Harry Gruyaert, a member of Magnum Photos has managed to document his obsession with color through 44 years and 21 different countries.
This Photographer Chases the Midwest's Most Dramatic Storms — Popular Science
Eric Meola went from shooting rock-album art to documenting the hidden beauty of the great American plains hit by tornadoes, lightning and dust storms in his book Fierce Beauty: Storms of the Great Plains.
---
We welcome comments as well as suggestions. As we cannot possibly cover each and every source, if you see something interesting in your reading or local newspaper anywhere in the world, kindly forward the link to us here. ALL messages will be personally acknowledged.
---
About the author: Phil Mistry is a photographer and teacher based in Atlanta, GA. He started one of the first digital camera classes in New York City at International Center of Photography in the 90s. He was the director and teacher for Sony/Popular Photography magazine's Digital Days Workshops. You can reach him via email here.
---
Image credits: All photographs as credited and used with permission from the photographers