Should Professional Photographers Use Tiktok?
If another social media craze comes out, I think I just might tear out my eyelashes one-by-one. I'm sure many of us professional photographers have thought that (or something similar) when we're daunted by the task of keeping up with today's culture. However, Instagram turned out to be pretty powerful for photographers. Snapchat, maybe not so much. What about TikTok?
If you're not yet familiar, Tiktok is a video social media platform that thrives on people making videos with popular music, sometimes doing dance challenges to it, and other fun, and fast, activities. Videos are typically 15 or 60 seconds long and have your run of the mill social elements like liking, commenting, and sharing. But what does that have to do with the professional photographer?
Up until a month or two ago, most professionals looked at TikTok as a younger generation platform since it attracted mostly young people 25 and younger. Since that's not usually a professional photographer's target demographic, most of us (myself included) have completely ignored the platform. However, since the world's "quarantine" there has been an explosion of TikTok users in all age ranges, and excessively so with the #over30 mom club. Now the world's most busy consumer demographic is active on TikTok.
This means if you're a wedding photographer like me, or a family photographer, or high school senior or photographing models, your target audience is now very present and reachable on TikTok.
So what can you do on TikTok? There are quite a few ideas laid out in the embedded video below. Here are some initial ideas:
1. Tips and Tricks Videos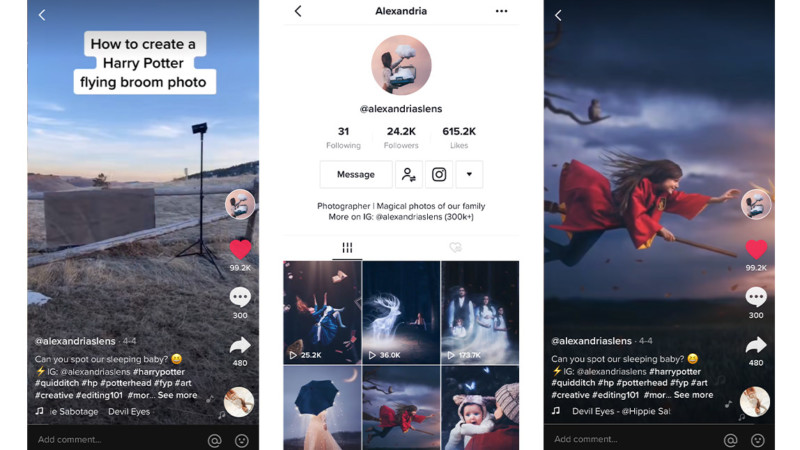 A lot of tiktokers are looking to make better videos, and that means learning a little bit about lighting and posing. As photographers, we can give expert advice on that.
2. Behind the Scenes Videos
Something as simple as showing how great you are at taking an "ugly" location and making a beautiful portrait would do quite well on TikTok. Not to mention it shows off your talent to potentially interested would-be clients.
3. Just Be You
Sometimes it's about showing off your personality, free of professional photographic advice, that attracts people to you and then they find your photography business afterward. If it gets them through your TikTok door, growing your business and reaching new clients, I'd consider that goal accomplished.
Using TikTok is fairly easy, though like photography, there are a few tools that TikTokers find useful when making videos. Personally, I've been loving my Benro BK10 7 Section Mini Tripod for phones. Photographer @LaurenAshleyStudios (doing very well on TikTok, who you see featured in the video above) loves using a DJI Phone Osmo and has a ring light handy as well. You can edit your videos right in TikTok, but some users want a bit more control and use apps like Inshot to edit photos and videos together. @Alexandriaslens (also a phenomenal artist mentioned in the video above and avid TikTok-er) uses one of her regular tripods that has a separate phone attachment (like the Peak Design Travel Tripod and Splice for video editing. She also loves using her Profoto B10 in her images and videos.
Is TikTok the next big thing? Honestly, who knows. But if it's a place where your potential customers are hanging out, then it's likely a place you want to be, or at least understand. From what I've seen, there aren't a lot of photographers there (yet) so professional photographers could easily stand out from the crowd.
For more ideas on what to do feel free to take a look at what I'm doing (@VanessaJoyPhoto) as a newbie, or what @LaurenAshleyStudioes and @Alexandriaslens are doing as photographers more experienced on TikTok. At the very least, you're sure to find a bit of entertainment and inspiration yourself!
---
Full disclosure: This article contains sponsored links to Adorama, a long-time partner of PetaPixel.
---
About the author: Vanessa Joy is a wedding photographer serving New Jersey and New York. You can find more of her work on her website, Facebook, Twitter, Instagram, and TikTok.