Restoring and Using One of the Rarest Cameras on the Planet
Arizona-based journalist and photographer Jim Headley recently set out on a "mission" to shoot an ultra-rare Japanese twin lens reflex camera called the Taroflex. Only 10 of these cameras are thought to still exist, and Headley is the proud owner of a fully-functioning copy in "excellent condition."
Headley got in touch with us in early June, right after he finished cleaning and tuning the camera, but before he'd had a chance to go out and shoot it. A he explains on his blog, this is by far the rarest item in his 500+ camera collection.
"With a deep love of old cameras in my heart and 500 cameras on the shelf, I began a mission to take images with my rarest camera, a Taroflex 120 6×6 format twin lens reflex," writes Headley. "Never heard of a Taroflex? I am not surprised. The Taroflex is a fluke in Japanese camera history."
Based on Headley's research, the camera was produced by Nippon Kōsokki Seisakusho in Tokyo between 1941 and 1943, and sold exclusively in Japan in 1943 and 1944. It was advertised in Japanese publications for approximately $4,325 in today's money.
According to a June 1949 article written by Kitano Kunio in Kohga Gekkan, only "a few dozen" Taroflex cameras actually made it to market, and after 8 years of exhaustive research, Headley concludes that only 10 or fewer of these cameras remain in existence today.
"To think that a few dozen ever got onto the market during one of the most brutal wars ever fought on our planet, makes the Taroflex one of the rarest photographic machines on the planet," writes Headley. "I'm sure many of them were used by journalists and soldiers to photograph the war and destroyed in bombings and battle."
Headley acquired his Taroflex at an antique mall in Lincoln, Nebraska in 2012 for just $200, but it was only recently that he actually set out to clean, restore, and shoot with the camera.
Fortunately, getting the system in working order was actually quite simple, and after a quick cleaning of the taking lens and some epoxy on a loose screw, he was ready to set out and see if the camera could still produce images. One hot weekend in June, out in Lost Dutchman State Park in the Superstition Mountains, Headley set out to shoot one of the "rarest photographic machines on the planet."
You can see photos of the excursion and a few scans of the resulting images below: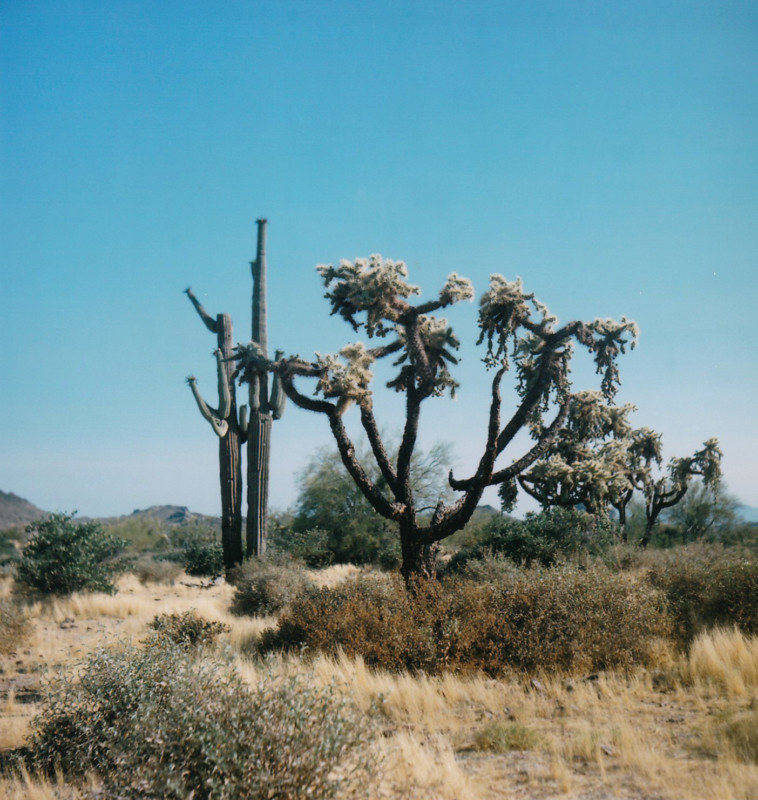 The journey was not without its problems: the take-up spool pin fell apart as Headley was loading the film, and an issue with the film number window meant that he was only able to capture 7 shots on his roll of 120 film, instead of the 12 he had hoped for. Only three ended up turning out in the end.
But even with these challenges, and a small light leak, he was still happy with what he was able to capture. He considers this "mission" a success, and describes shooting with such a camera as "exhilarating."
Reaching the end of my mission to use the rarest camera in my collection, if not the world, is a little bitter-sweet. I wanted to test this camera out from the day I found it so many years ago. Now that mission is complete.

The Taroflex was tedious, nerve-racking and yet still joyful. I was upset when the camera fell apart on me on its trial run, as I feared that I had just destroyed a magical treasure.

Thankfully, this photographic unicorn is fine, and I suspect the Taroflex and I will be on a second outing very soon.
To read the full story (and history) of this camera, and see more photos of the repair process involved in getting it working, head over to Jim's blog. And keep an eye out, because he's planning to take the camera (now fixed) on a trip to the White Mountains, where he hopes to capture a lot more than the three keepers you see above.
---
Image credits: Photos by Jim Headley and used with permission; photos of Jim using the camera taken by Catherine Hudson.