Razer Unveils Blade 15 'Studio Edition' with Faster CPU, Quadro GPU, and Up to 64GB of RAM
Razer has updated its top of the line laptop for creative professionals: The Razer Blade 15 Studio Edition. This update–which comes just 7 months after Razer unveiled the very first 'Studio Edition' Blade–packs even more power into the laptop, while fixing basically every gripe that we had with the first version when we reviewed it last year.
In some ways, this update to the Blade 15 Studio parallels Apple's recently released 13-inch MacBook Pro: it's an important spec bump that includes a 10th-gen Intel CPU, more RAM, more storage capacity, and fixes what was a very annoying keyboard.
The difference, of course, is that the Blade 15 Studio Edition is a top of the line powerhouse that's meant to compete with much more powerful machines, like the 16-inch MacBook Pro and the latest spate of 10th-Gen laptops. Thanks to these new specs, it will definitely be able to do that. You can see the new Blade 15 Studio Edition in action in this "Made with Razer" promo video:
Inside the latest Blade you'll find a 10th-gen 8-core Core i7-10875D CPU, support for up to 64GB of RAM, support for up to 4TB of NVMe SSD storage, and that insane enterprise-grade NVIDIA Quadro RTX 5000 GPU with 16GB of its own VRAM. The previous variant maxed out with a 6-core processor, 32GB of RAM, and 2TB of storage, putting it at a disadvantage against competitors like the 16-inch MBP. No longer.
The other major improvement–and something we harped on in our review–is that Razer finally fixed their infuriating keyboard layout. No longer is the right Shift key located to the right of the up arrow. Instead, it's been almost comically elongated, fixing that frustrating layout issue once and for all.
The Blade 15 Studio Edition doesn't disappoint on the display front either. Like its predecessor, it uses an HDR400 certified 4K OLED display with 100% DCI-P3 coverage, that comes custom calibrated from the factory and promises a very low Delta-E. It's a 60Hz display, but it does also feature an ultra low 1ms response time, in case you want to use it for some gaming, since the laptop's hardware will be able to tear through any AAA title you want to throw at it.
Finally, in terms of ports, the Razer still delivers in all of the ways that Apple has decided not to. Namely: you get one Thunderbolt 3 port, one USB Type-C port (USB 3.1 Gen 2 with Power Delivery), two USB Type-A ports (USB 3.1 Gen 2), an HDMI 2.0B port, and a UHS-III SD card reader. No dongle life for you. And as a bonus, you can now charge the computer through the USB-C and Thunderbolt ports.
Here's a closer look at the laptop from all angles: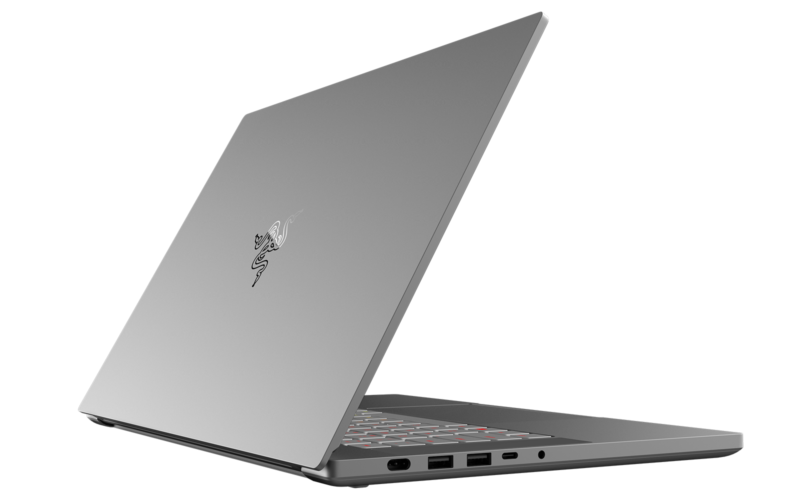 Like its predecessor, the new Razer Blade 15 Studio Edition doesn't come cheap. Thanks in large part to that Quadro 5000 card, the Blade Studio will run you $4,300 with a 8-core CPU, 32GB of RAM, and 1TB of NVMe storage. There's currently no way to configure more RAM or storage into your computer at check out, so it seems those upgrades would need to be done at home.
However, if you don't need the Quadro card (and most photo/video professionals don't) you can opt for the Blade 15 Advance with almost identical specs–same CPU, same display, 16GB of RAM upgradable to 64GB, 1TB of storage upgradable to 4TB, SD card slot–which uses an NVIDIA RTX 2080 Super Max-Q GPU instead at a much more manageable $3,300 price tag.
We're hoping to get a review unit of the Blade 15 Studio Edition in soon, so stay tuned to find out just how much of a photo editing performance bump this latest model offers over the first generation.