Photographer Uses Underwater Gear to Capture Stunning Sunbird Portraits in His Garden
Underwater photographer Steven Benjamin is under one of the world's most strict COVID lockdowns in Cape Town, South Africa, but he hasn't let that stop him from capturing world-class wildlife photography. He's just doing it from the comfort of his garden instead.
"South Africa has implemented the strictest lockdowns in the world—no dogs walking, no exercise, no cigarettes or alcohol, full stay home," he tells PetaPixel. "I wanted to use this project as a way to be creative and escape the confines of the lockdown by enjoying the freedom of the birds."
To be clear, he's not just going out onto the veranda with a camera and a flash gun. In order to capture the striking, colorful "studio" portraits he's after, he had to augment his underwater photography workflow to work above ground, creating a "studio setting for wild birds that are free to come and go as they please."
Gear used included: a Sony a7S II, a Canon 7D Mark II, Canon 100-400 IS II, Canon 70-200 IS II, a Metabones EF-E mount adapter, Big Blue 8000 Lumen video lights, and NautiCam Clamp underwater strobe arms. All together, the setup looks something like this:
Of course, adapting his underwater rig to work above ground, and getting the birds used to his setup, were both difficult tasks. Each photo has to be taken at above 1/2000 in order to guarantee sharp results and black out the background. This meant using a lot of light, which came with a specific set of challenges.
"The birds did not like flash photography so I had to figure out how to get constant light onto them with my underwater video lights. However, the lights are meant to be underwater where they can cool down, so I have to turn them off often to prevent overheating and burning them," explains Benjamin. "Then I had to get the birds used to being close to bright lights, which also took a while."
Once he overcame these challenges, it was all about setting up different perches, dialing in the right lighting, and waiting for the birds to come and "visit" his studio.
You can see some of what he's captured below: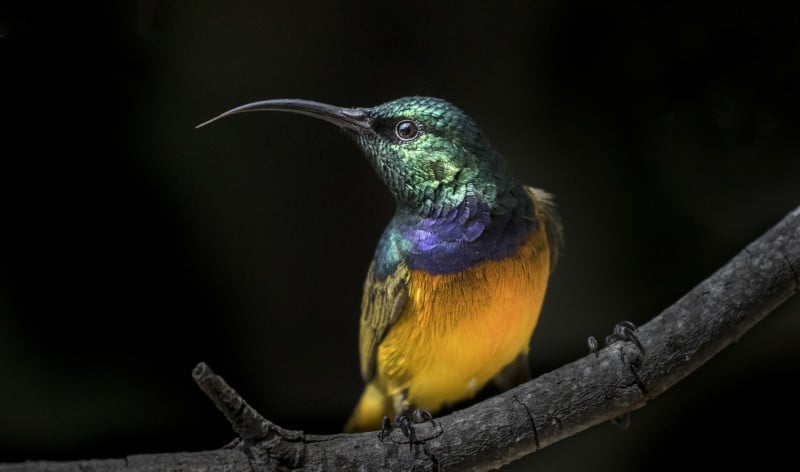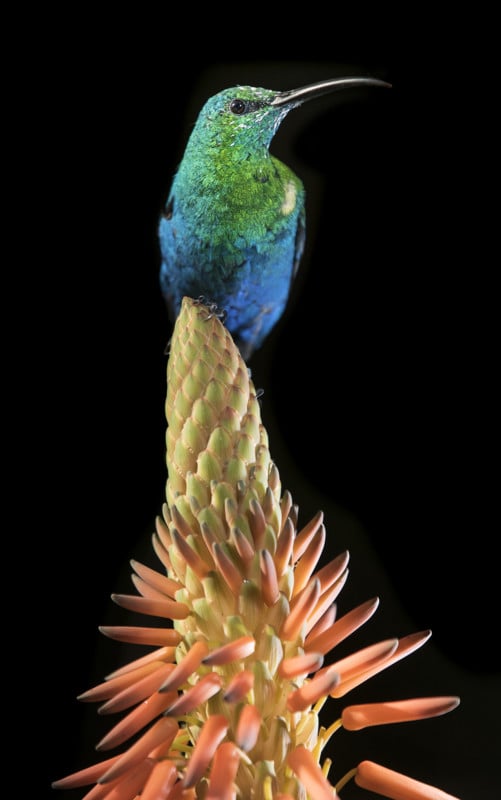 The entire experience has been incredibly rewarding for Benjamin, who credits the lockdown with forcing him out of the box.
"Seeing things around you in a new way is important. You can create beautiful and striking images by thinking out the box and trying," says Benjamin. "Lockdown has made me focus and given me time to experiment. Viewers are absorbed by simplicity and symmetry that highlights beauty."
To see more of Benjamin's stunning Sunbird photography—as well as years worth of underwater conservation imagery—head over to his website, or give him a follow on Instagram @animal_ocean. There's plenty there to keep you inspired, and show you what's possible when you're forced (in this case literally) out of your element.
---
Image credits: All photos by Steven Benjamin and used with permission.