Pentax Reveals New APS-C DSLR and Three Lenses in Online Presentation
Ricoh released a 40-minute video presentation last night on YouTube, detailing its plans for several Pentax products that are "in-development." The video was released in lieu of a CP+ 2020 presentation, and shared details about the upcoming APS-C DSLR, one previously-announced 85mm lens, and two brand new lenses we hadn't heard about before.
The "star" of the show is the upcoming Pentax flagship APS-C DSLR, which Ricoh has yet to name.
Originally teased as "in development" back in September of 2019, the video gives us an update on where this product stands. The goal, says Ricoh's Shigeru Wakashiro, is to create the "best APS-C SLR model ever produced by Pentax. Like the K-7, it will be compact, durable, and functional, while employing "every available technology."
Unfortunately, Pentax didn't share much about this product, highlighting only one feature in the video: the camera's optical viewfinder.
Apparently, this will be the camera's "most notable feature," because it uses a "special glass material" to provide a clear, distortion-free image at a magnification of 1.05x, which is equivalent to the full-frame Pentax K1's 0.7x magnification OVF. There's also an eye sensor just below the eye cup, which will enable the camera to dim the LCD when you put your eye to the viewfinder.
You can see a closeup of the new OVF below:
Not much else was discussed in detail. Improved autofocus tracking is mentioned, and the camera's design and battery grip are discussed a bit starting around the 29-minute mark, but that's about it. We'll have to wait until later this year to find out more.
Despite delays caused by COVID-19, the Ricoh product managers are still hoping to release this camera on schedule in 2020.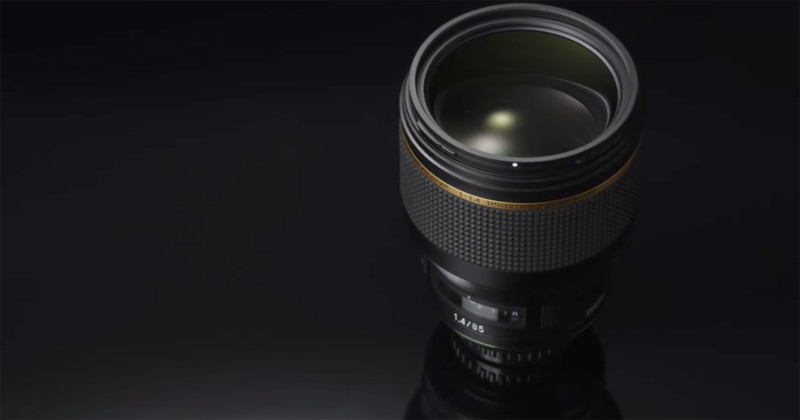 The other three announcements include more details about the upcoming HD Pentax-D FA* 85mm f/1.4ED SDM AW originally teased back in March, and the unveiling of two new upcoming lenses: a full-frame "D FA 21mm Limited lens" with a mysterious maximum aperture that was not mentioned, and an HD Pentax DA* 16-50mm f/2.8ED PLM AW zoom lens for APS-C cameras.
The three lenses are discussed at the top of the video by Product Planning Department Manager Tetsuya Iwasaki, starting with the 85mm.
This lens is Pentax "the second-most requested" prime lens (behind a 50mm f/1.4), and Iwasaki-san is keen to stress that this will be "the finest lens in its class." It uses three Super ED elements to cut down on chromatic aberration, and a concave front element to fight "excessive light refraction," which can cause various other aberrations.
That's all we know for now, but an official announcement should be coming "very soon."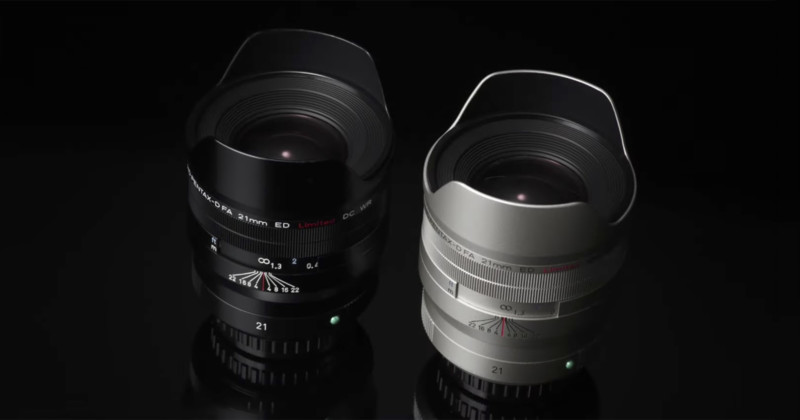 The other two lenses are brand new. The mysterious 21mm lens will be the first "D FA" lens to join Pentax' Limited series of lenses. Available in both silver and black, with classic styling, the lens hits on the "three essential factors" of a Limited series lens:
Natural image rendition that recreates an ambiance that can't be measured in 'numerical values'
The 'sheer joy' of owning a 'truly special' lens
And the 'pure excitement' of picture taking.
Gotta love that marketing speak… What this means in real terms is that Pentax isn't striving for optical "perfection" here, like they do with the Star series lenses, but for optical "character." Something we've talked about in the past.
This lens—which will be weather sealed, feature an in-lens DC focusing motor, and has the lens hood built into the lens barrel itself—will be available sometime in 2021.
The third and final lens mentioned today is a fast standard zoom for APS-C cameras: the HD Pentax DA* 16-50mm f/2.8ED PLM AW. Another next-generation Star-series lens designed specifically for use with digital cameras, Iwasaki-san says that Ricoh "loaded a full array of advanced PENTAX technologies into this lens."
This includes the use of a fast and silent 'Pulse' motor for autofocus (PLM), which required Ricoh to redesign the optical construction in order to incorporate a lighter focusing group. Optically, Iwasaki-san promises "outstanding imaging performance" thanks to the various "lens design and alignment technologies," which weren't discussed any further.
This lens is also planned for release in 2021, though they are trying to rush production so that it can be released alongside the aforementioned APS-C flagship DSLR.
As you can see, today's presentation was a sort of… extended teaser: revealing some intriguing details but stopping short of a full announcement of any of these four products. we'll have to wait a little while longer before we get "official announcements." To find out more about what's coming up from Ricoh Pentax, check out the full video for yourself up top.
(via DPReview)