Nikon Unveils Z50 Creators Kit Bundle for 'Vloggers, DIYers, and Travelers'
It's not just doom-and-gloom financial news out of Nikon today. The company has also unveiled a special "Creators Kit" built around the APS-C mirrorless Nikon Z50, which includes the camera, a lens, a microphone, a JOBY GorillaPod, and more.
The kit was designed for anyone who wants to get started making "share-worthy videos" with their Nikon camera right away. Nikon isn't known as the camera-of-choice for most vloggers and other video hobbyists, but the company is hoping that this kit and a new marketing campaign aimed at streamers will help to shift this perception and get people streaming video using their Nikon camera.
To that end, the kit includes a "starter pack" of sorts for vlogging:
Nikon Z50 camera
NIKKOR Z DX 16-50mm f/3.5-6.3 VR lens
SmallRig Vlogging Mounting Plate
Joby GorillaPod 3K
RØDE VideoMicro Microphone
Nikon Travel Kit Bag
Free access to Nikon School Online Class "Creator's Mindset: Creating Video Content with the Z50"
You can see the contents of the Nikon Z50 Creator's Kit below: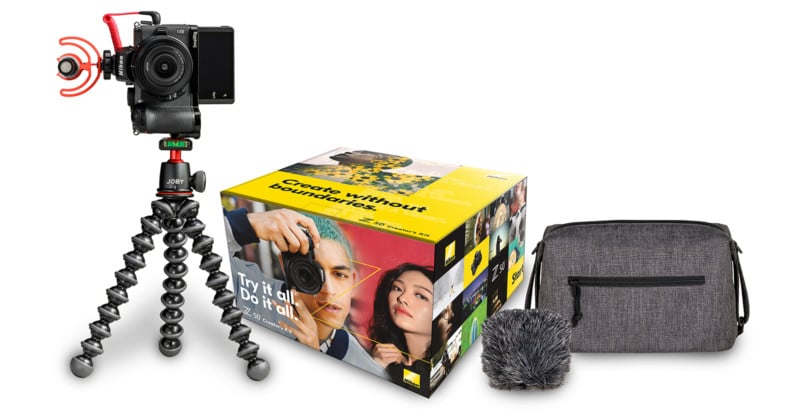 The Nikon Z50 Creator's Kit is available to order today, and will begin shipping on May 21st. The kit will cost you $1,150 all-in, which is about the price of buying the Z50 16-50mm lens kit, RODE mic, JOBY GorillaPod, and the SmallRig mounting plate separately. This way, you get a free bag and access to the online course for your troubles, and it's all bundled together into a convenient kit.
In addition to the kit itself, Nikon has launched a marketing campaign that's meant to teach users "How to Live Stream with Nikon Cameras" both over USB and using an HDMI capture card like the Elgato Camlink. Nikon's Chris Ogonek goes over your options in the video below:
To learn more about Nikon's streaming options, check out their new livestreaming solutions webpage. And if you want to learn more about or pick up your own Nikon Z50 Creators Kit, you can do that here.