New Keyboard, Faster CPUs, and Up to 32GB of RAM
Ever since Apple unveiled the impressive 16-inch MacBook Pro, we've been waiting for a "14-inch" variant that brought similar improvements to the smaller size. Today, Apple (sort of) delivered that update—and although it's till a 13-inch computer, it benefits from a lot of important updates under the hood.
The updated 13-inch MacBook Pro come with several key updates, but none more anticipated than the updated keyboard. Now featuring the new and improved Magic Keyboard and a physical escape key, owners no longer have to deal with frustratingly shallow and unfortunately breakable butterfly switches.
That's it for aesthetic tweaks—unlike the 16-inch model, you're not getting smaller bezels and more screen in a nearly identical chassis—but for many people, the keyboard is reason enough to upgrade.
For photographers, the most important updates have nothing to do with the keyboard. Under the hood, Apple is giving us all a LOT more bang for your buck.
The new 13-inch MBP uses quad-core Intel chips across the lineup, and can be configured with 10th-gen CPUs that offer up to 2.3GHz per core and TurboBoost speeds of up to 4.1GHz. Apple is also increasing storage across the lineup by 2x—starting at 256GB on the base model and offering up to 4TB if you're feeling spendy—and for the first time ever, you can configure the 13-inch MBP with up to 32GB of 3733MHz RAM.
The display, while not a significant update like we saw in the 16-inch variant, is still one of the best on the market for color-critical work, with 500 nits peak brightness and support for the P3 color gamut.
Finally, that CPU spec comes with one other important caveat for creatives: Intel Iris Plus Graphics.
You need to step up to the $1,799 model to get this benefit—the first two tiers still use 8th-gen CPUs—but once you do, Apple promises up to an 80% performance boost over the previous generation. For photographers and video editors who want a thin-and-light Mac that is powerful enough to handle their workflow, this is a big step in the right direction.
It also means that the computer can now run a Pro Display XDR at full 6K resolution.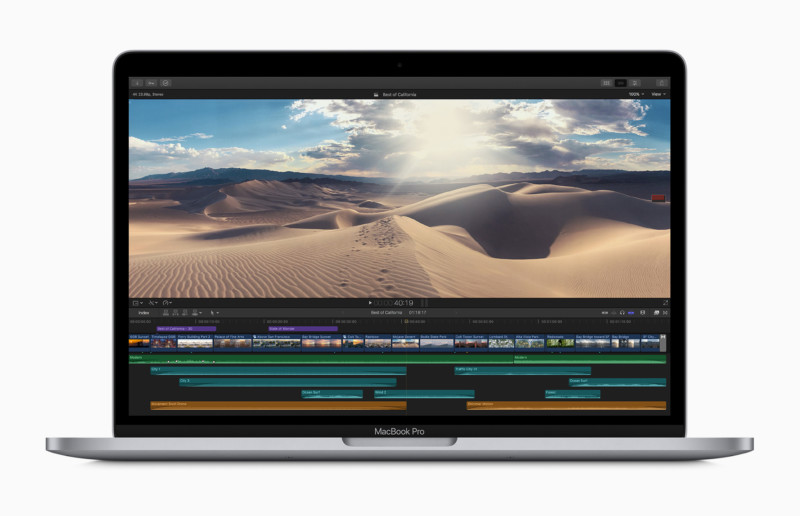 The new and improved 13-inch MacBook Pro is available today, and should begin arriving in customers' homes later this week.
The base model costs $1,299 for a 1.4GHz quad-core 8th-gen Intel Core i5 CPU, 8GB or RAM, 256GB of storage, but we would definitely recommend you upgrade that spec at least a little bit. The bump to 16GB of RAM costs just $100 (it used to cost $200) and you can upgrade to a 1.7GHz quad-core Core i7 with a much beefier TurboBoost for $300 more.
If you really want to take advantage of what this laptop can do, you'll want to step up to the $1,800 variant, which will get you a 2.0GHz quad-core 10th-gen Intel Core i5 CPU (TurboBoost up to 3.8GHz), 512GB of storage, and 16GB of RAM, with the option to upgrade even further from there.
To learn more about this compute or spec out your own, head over to the Apple website. PetaPixel will be receiving one of these for testing in the next day or two, so expect some first impressions and real-world photo editing benchmarks very soon.