'Bad' Weather Rewards Photographer with Stunning Graduation Photos
Canadian freelance photographer Christy Turner recently ran into a bit of good luck in the form of some "bad" weather. In the aftermath of a violent thunderstorm on the day of a graduation shoot, nature rewarded her with a spectacular backdrop of mammatus clouds … and a rainbow to boot.
The story began when a colleague and friend of Turner's asked if she would photographer her daughter, Cheyann Clarke-Colbourne, in the graduation gown that she hadn't had occasion to use because of the pandemic.
"As we proceeded to the farm outside of Calgary, Canada, I wasn't sure how the shoot would happen as it was a torrential and violent thunder storm in progress!" Turner tells PetaPixel. "This part of Alberta is prone to extreme weather of all kinds, particularly in the spring storm season. However, as an avid aurora borealis and storm chaser, I also knew that there was possibility for post-storm beauty to happen."
And that's exactly what she was greeted by, but not even she could have predicted the backdrop mother nature would graciously produce.
"What I didn't expect was the exceptionally dramatic mammatus and a rainbow to come together during sunset once the rain receded," says Turner. "The setting sun served to magnify the incredible structure of the mammatus clouds and provide a beautiful golden cast on them! It was magical!"
She began to capture some portraits, even shooting a close-up of the horse for good measure.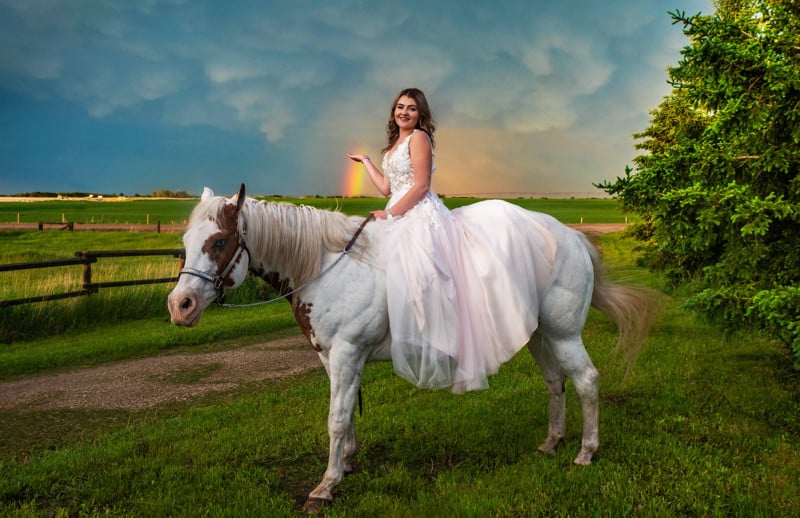 "When shooting at both sunset and with a heavy storm cloud backdrop the light is constantly changing so I was both quick to pose my subject Cheyann and quick to adjust for the ever-changing light available," recalls Turner. "The natural light however was simply exquisite and I didn't have to do much adjustment thanks to that."
The only downside was the "thousands of mosquitos" that descended on them in the aftermath of the rain.
"At one time I looked down at myself and I must have had 40 different mosquitoes latched onto me," says Turner, "but I didn't mind, I just couldn't wait to get home and post-process these memorable shots!"
Speaking of which… as nice as the photos above turned out, the hero shot is definitely the panorama below. Using a Tamron 24-70mm f/2.8 (she's a Tamron Canada ambassador) and a Nikon D810, she captured multiple vertical "slices" in order to fit the whole scene into a single frame: Cheyann in the middle, a path running off behind her, rainbow right next to her, and mammatus clouds dappling the sky, lit up by the sunset.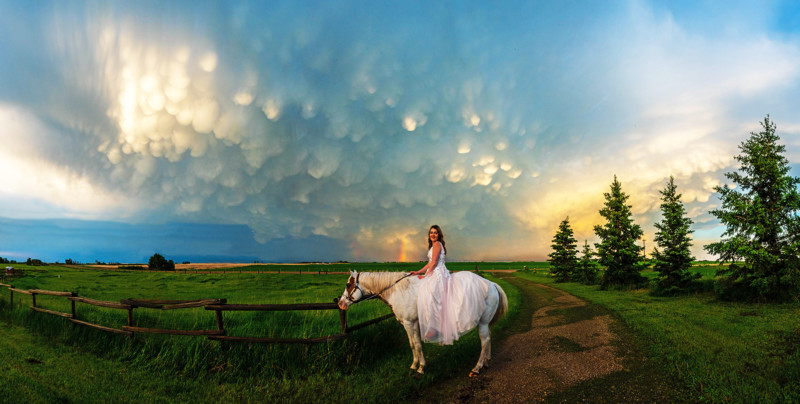 The photos have earned a ton of attention online, shared by sites like AccuWeather thanks to the spectacular natural backdrop. But even without the media attention that the photos have earned, the experience of shooting against this backdrop was absolutely unforgettable for Turner and, more importantly, for Cheyann. Happy graduation!
And a huge thank you to Christy for sharing these images and the story behind them with our readers. To see more of her work—she specializes in astrophotography, lifestyle portraits, and travel/landscape photography—be sure to visit her website or give her a follow on Instagram and Facebook.
---
Image credits: All photos by Christy Turner and used with permission.