Airmap Suggests Drone Airspace Should be Monetized, Sparking Outrage
Airmap, one of the more popular services for planning legal drone flights, is facing backlash after suggesting that airspace should be monetized through taxation as well as fees associated with launching and landing drones.
Airmap has deleted a set of tweets advocating for the monetization of airspace amid backlash and calls for boycotting the Unmanned Traffic Management (UTM) solution. Airmap is one of the most popular services for pilots to plan flights and fulfill Low Altitude Authorization and Notification Capabilities (LAANC) requests.
What Airmap suggested is in line with how manned aviation is currently handled. Airports currently charge hanger and parking fees while also charging landing and departure fees. That said, many argue that the monetization of drone airspace would greatly benefit Airmap while at the same time, such an act would be a serious detriment to drone pilots.
In an interview with DPReview, the Drone Service Providers Alliance (DSPA) argued that enacting what Airmap advocated would greatly hurt the drone industry, and is only for the benefit of Airmap.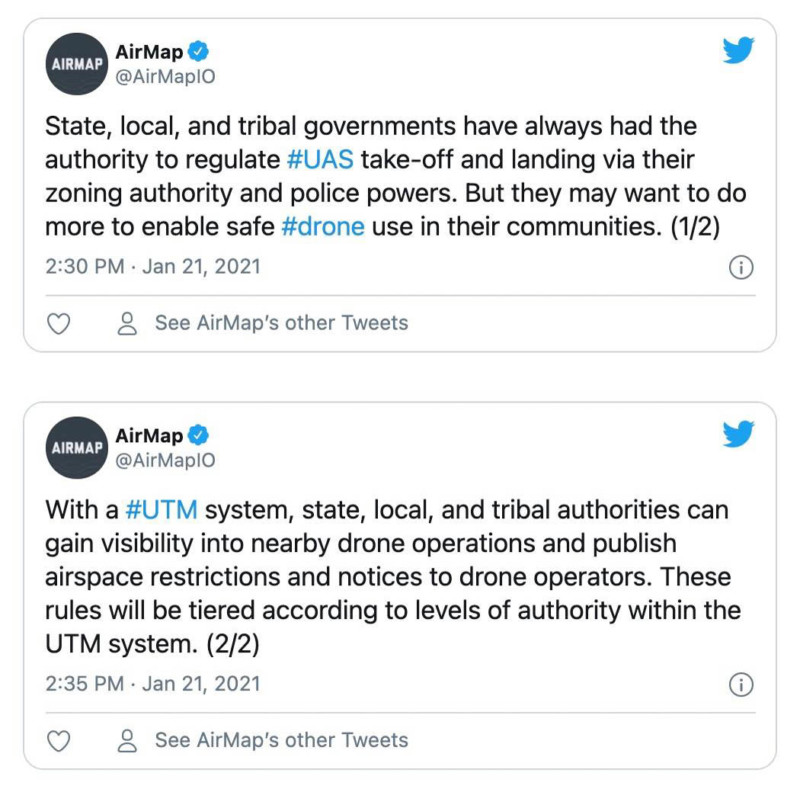 The DSPA says that Airmap has a history of hostility towards the free and open skies for drones.
"They spent over $170,000 a year to lobby for Senator Feinstein's Drone Federalism Bill which would privatize the first 200 feet of airspace and would have negatively impacted airspace even above that altitude," the DSPA says. "They continued this effort lobbying extensively for H.R. 2930, known as the Drone Innovation Act. Then in 2019, Airmap attempted to push through (and almost succeeded) a model rule through the Uniform Law Commission until people in the drone industry pushed back."
After the FAA released its final rules for commercial drone flights, Airmap has positioned itself to be the go-to UTM provider. If they succeed in becoming the FAA's choice, drone operators should expect to pay fees for launching and landing. While the FAA has pulled back on requiring internet connectivity in the finalized Remote ID regulations, the idea of it has not been fully abandoned. If the FAA forces participation in UTM and Airmap controls that angle, the DSPA argues that the increased costs will only benefit Airmap and not drone pilots.
"Those fees do not encourage innovation nor do they encourage business activity," DSPA says. "The only way to enable the ability to levy taxes and fees based on take-offs and landings is to force drone operators to participate in the UTM network."
Given the precedent in manned aircraft flights and Airmap's history with lobbying, if drone operators are not vigilant in the space, the over a million hobbyist drone pilots and over 200,000 certified remote pilots in the United States may find themselves at the mercy of a fee structure beneficial mainly to Airmap's bottom line.
(via DPReview)