A.I. vs Fiverr vs Pro Photographer
Photographer Dan Watson of Learning Cameras recently put together a little photo editing shootout. Using one of his own images, he wanted to see who would edit the photo best: strangers hired through Fiverr, a professional photographer, or some of the latest AI-powered photo editing tools.
After introducing the concept (and making the requisite Squarespace plug) Watson dives into the unedited image to show you what everyone had to work with. It's a shot of the famous Skógafoss waterfall in Iceland, captured at sunset and shot in such a way as to preserve as much detail as possible in the RAW file.
He then introduces the "contestants." Representing "AI" is Luminar 4.2, which Watson uses to edit the image using only the software's AI-powered tools. Fiverr was represented by several strangers who charged anywhere between $10 and $15 to edit this single image. And "Pro" was represented by Nate Luebbe of @nateinthewild, who posted his own video of how he edited the shot here.
So … how did they all do? See for yourself. Dan was kind enough to send us the edited photos for you to compare for yourself:
Edited using AI Tools in Luminar 4.0
Edited by Fiverr User for $15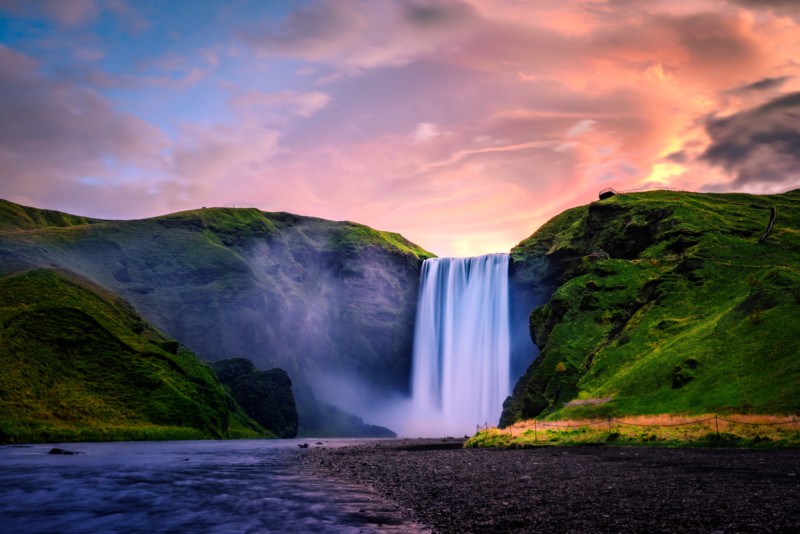 Edited by Fiverr User for $10
Edited by Pro Photographer Nate Luebbe
To see the original starting point, analyze these photos a bit closer, and see how Dan got the AI result in about 60 seconds (with only an ounce of cheating) check out the full video up top. And once you do, let us know who you think did the best job with their final edit.
(via Fstoppers)
---
Image credits: Photos courtesy of Dan Watson, used with permission.